Victor Meldrew [Potrayed by Richard Wilson ] is the main protagonist of the sitcom and finds himself constantly battling against all that life throws at him as he becomes entangled, like the pawn he is, in machiavellian plots.
Although a nice man, Victor is not afraid to let his frustration get the better of him whenever something goes wrong or if someone annoys him.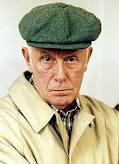 Renwick once pointed out in an interview that the name "Victor" was ironic, since he almost always ends up a loser. From being buried alive, to being prosecuted for attacking a feisty pit bull terrier with a collection of coconut meringues, Victor tries to adjust to life after his infamous replacement by a "box" at his place of employment, but to no avail. He believes that everything is going wrong for him all the time, and he has the right to be angry and upset because it's not his fault it's every one else's fault. Victor is a tragic comedy character and sympathy is directed towards him as he becomes embroiled in complex misunderstandings, bureaucratic vanity and, at times, sheer bad luck. The audience sees a philosophical ebb to his character, however, along with a degree of optimism, yet his polite façade collapses when events get the better of him, and a full verbal onslaught is forthcoming. "Victor-isms" include "I do not believe it!", "I don't believe it!", "Un-be-lievable!"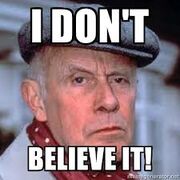 Victor Meldrew was best known for his catchphrases 'I Don't Believe it'
He was killed in a hit-and-run car accident in the final episode by a distraught woman named Glynis who rushed to the hospital for her dying husband.
After learning the truth of Victor's death, Margaret leaves Glynis' house making viewers wonder if she poisoned Glynis in doing so keeping her promise to murder Victor's killer ambiguous. However it is most likely she didn't as she is seen in the comic relief special 'visiting uncle Eric' which takes place after victor's death showing she hadn't been prosecuted for anything.
Trivia
[
]
Victor Meldrew was seen naked twice, first time was

Hearts of Darkness

 and the second time was

The Exterminating Angel

.
Gallery
[
]